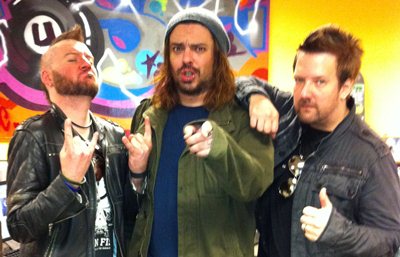 Win a Seether Prize Pack (including signed sleeves). Tell us in 30 words or less why you should win!
Read More
Win a Poison Double Dose CD Pack. Tell us in 30 words or less why you should win!
Read More
General Terms and Conditions - Competitions
1. Entry into any competition constitutes acceptance of these terms and conditions and any competition specific terms and conditions.
2. Entry is open to residents of any country where it is acceptable to run this competition. An individual may enter the competition multiple times unless stated otherwise on specific competition posts, however an individual can win once only.
3. This competition is void where prohibited by law.
4. The promotion timing may be altered at the discretion of the Promoter.
5. The promotion start and finish times will be identified in individual competition posts. Promotion finish times may be changed (extended or reduced) by the Promoter.
6. The task required for entry will be identified in individual competition posts.
7. The prize for each competition will be identified in individual competition posts. Any prizes are not exchangeable, transferable or redeemable for cash. Any and all taxes on all prizes are solely the responsibility of the winner(s).
8. If a competition requires an entry of words or an image, the entrant warrants and represents that any words submitted were authored by the entrant or any image(s) submitted was taken by the entrant and that the entrant has full rights associated with the words or image(s) at the time of entering this competition.
9. All entries become the property of the Promoter and may be entered into a database or used for any other purpose. By entering this competition, the entrant agrees to release and hold harmless all of the Promoter, prize providers, their parents, subsidiaries, affiliates, partners, successors, assigns and all of their respective officers, directors, employees, representatives, agents and shareholders, from and against any and all claims, causes of action, demands, losses or liabilities of any nature whatsoever which may result, directly or indirectly, in whole or part, from entrant's participation in this competition or with respect to the awarding, receipt, possession, use and/or misuse of the Prize or any part thereof.
10. Except where legally prohibited, the Promoter may use an entrant's name and details for direct contact in relation to the competition. The Promoter may communicate with an entrant in relation to other competitions or the Promoter's newsletters or information. The Promoter may use an entrant's non-identifying details, content and images for future promotional, marketing and publicity purposes in any media worldwide without notice and without any fee being paid unless otherwise advised by the entrant. A third party will not contact entrants.
11. The Promoter will judge the best entries. This is not a game of chance. The winning entrants will be notified by email. The judges' decision is final and no correspondence will be entered into.
12. The Promoter accepts no responsibility for variation of the prize that occurs that is beyond its control. A winning entrant acknowledges that third parties may impose additional terms and conditions on the prize. The Promoter does not accept any responsibility and is not liable for additional conditions imposed by a third party or for the breach of those conditions by any person.
13. The Promoter reserves the right to verify the validity of entries and reserves the right to disqualify any entrant for submitting an entry that is not in accordance with these terms and conditions.
14. A winning entrant who fails to respond to a request for contact details may forfeit the prize. In the event of any winning entrant being unable to satisfy these competition conditions or forfeiting or not claiming a prize, the Promoter reserves the right to re-judge. If any prize remains unclaimed or forfeited through ineligibility or otherwise, the Promoter reserves the right to re-award the prize.
15. The Promoter shall not be liable for any loss or damage whatsoever that is suffered by any entrant or winning entrant (including but not limited to indirect or consequential loss), or for any personal injury suffered or sustained as a result of taking any prize, except for any liability that cannot be excluded by law. The Promoter is not responsible for any entries that are not received or are otherwise interfered with due to problems with the internet or telecommunications services.
16. If for any reason this promotion is not capable of running as planned due to any reason, including unauthorised intervention, fraud or any other causes beyond the control of the Promoter, which corrupt or affect the administration security, fairness, integrity or proper conduct of this promotion, the Promoter reserves the right (subject to any applicable law) in its sole discretion to disqualify any individual who tampers with the entry process.
17. In the case of the intervention of any outside agent or event which naturally changes the result or prevents or hinders its determination, including but not limited to vandalism, power failures, storms, natural disasters, acts of God, civil unrest, strikes; the Promoter may in its absolute discretion cancel the promotion and restart it on the same or similar conditions subject to state legislation.
18. Employees, officers, and directors (including such persons' parents, spouses, children and siblings and members of the same household) of the Promoter are not eligible to participate in any competition.
19. The Promoter is I Like My Music Loud Pty Ltd (ABN 61 143 957 359).