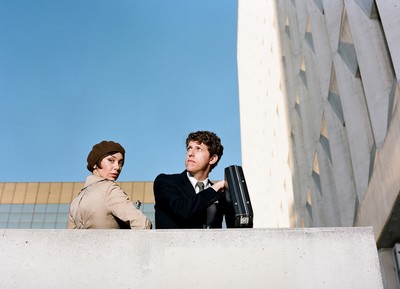 The Bird and The Bee
The last time Inara George and Greg Kurstin (a.k.a. the bird and the bee) made a full-length album, their acclaimed self-titled debut, they weren't certain anyone would ever hear it. "We made our first record for ourselves," says George, "we didn't expect to get signed to a label and have it be released." But it was heard, and then released by Blue Note Records in January 2007, and people began to fall in love with the band's airy blend of Brazilian Tropicalia, '60s psychedelic pop, and sparse electronic beats. With the surprise success of the album the Los Angeles-based duo took their act on the road, an experience they say was a major influence on their new album, entitled Ray Guns Are Not Just The Future.
"It was just the two of us on stage with a drum machine and an electric piano," recalls Kurstin, the band's multi-instrumentalist and producer. "Playing live made us realise that we wanted to make music that was energetic and danceable. When you make a new album, you walk a fine line between trying to keep the elements that people like about your music and needing to push the envelope a bit. We definitely wanted to evolve. We wanted to play with the pop element and make it sound fuller." "Exploring new territory felt like a natural progression," adds singer George, a saucer-eyed gamine who writes the band's lyrics and melodies.
Ray Guns Are Not Just The Future is definitely new sonic terrain for the Los Angeles-based duo. Every bit as beguiling as their debut, the album retains its predecessor's lithe melodies and Brazilian influences, but takes its stylish '60s pop deeper into the psychedelic period of the Tropicalia era, especially on the trippy "What's In the Middle" and the dreamy "Meteor." "Reference points for me are mid-'70s records by [samba-rock pioneer] Jorge Ben, like África Brasil, or early '70s Caetano Veloso," Kurstin says. "The new album has less of a bossa nova feel because the rhythms are more dance-friendly than they were on the first record." Kurstin, an in-demand songwriter and producer who has worked with Lily Allen and Kylie Minogue, adds that he was in a beat-making headspace when it came time to write songs for the bird and the bee. "I thought it would be fun to go further with that element in our music."